Did you know there is an initial screening tool to assist in the assessment of Hypoactive Sexual Desire Dysfunction (HSDD)?
Posted: July 4, 2022
Low Sexual Desire is Common
Sexual difficulties and concerns are common across a woman's lifespan, increasing at midlife and beyond menopause.
The DSDS (Decreased Sexual Desire Screener) can assist you and your Doctor in the assessment of HSDD*.
*Hypoactive sexual desire dysfunction (HSDD) is an extremely common medical condition that causes distress resulting from a low sexual desire.
Download DSDS Screener
What is HSDD? – Learn More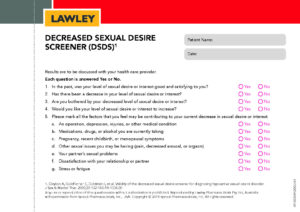 Latest News
Engaging your Doctor We understand that this maybe a sensitive subject. Many women feel discomfort or embarrassment which contributes to their unwillingness to seek… Continue Reading →
Have you heard of Prof Susan Davis? Professor Susan Davis is a clinician researcher undertaking research spanning clinical medicine and public health pertaining to… Continue Reading →
Menopause can affect your relationships and your sex life. Symptoms such as a dry vagina can make sex painful and you may find you… Continue Reading →