BBC Menopause and testosterone replacement therapy
Posted: June 5, 2019
Over 900 specialist menopause physicians from around the world attended The European Menopause and Andropause Society conference held in Berlin on 15-17th May 2019.
Numerous experts in the field of menopause, reproductive endocrinology and gynaecology presented the latest findings on the clinical management and research findings for the hormone testosterone in the management of menopausal symptoms.
Professor Susan Davis, President of the International Menopause Society and Director of the Monash Women's Health and Research Program in Melbourne, Australia presented preliminary findings of a systematic review and meta-analysis of 46 studies examining effects of testosterone therapy for women.
The background and scope of this study was published in the open access journal Systematic Reviews earlier this year – https://systematicreviewsjournal.biomedcentral.com/articles/10.1186/s13643-019-0941-8
The United Kingdom's national broadcaster, the BBC ran a story in the days after Professor Davis's presentation which can be viewed on YouTube  which highlights the urgent need for a licensed testosterone product to be approved by global regulators for the safe and effective administration of testosterone in women.
https://www.youtube.com/watch?v=lgd1kaA4KMQ
The full paper is expected to be published in the coming months.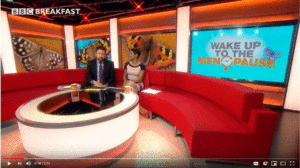 Latest News
Low Sexual Desire is Common Sexual difficulties and concerns are common across a woman's lifespan, increasing at midlife and beyond menopause. The DSDS (Decreased… Continue Reading →
Low Sexual Desire Is Common 1 in 3 women between the ages 40 – 64 will experience HSDD* which can severely impair relationships, mental… Continue Reading →
Professor Susan Davis discusses how the onset of menopause may affect your sex life, as well as various treatment options.