AMS Fact Sheet – Menopause before 40 and spontaneous premature ovarian insufficiency
Posted: July 18, 2022
Menopause before 40 and spontaneous premature ovarian insufficiency (POI)
MAIN POINTS
Premature ovarian insufficiency (POI) is a loss of function of the ovaries in women who are less than 40 years old.
Spontaneous POI affects up to 4% of women less than 40 years and in most cases the cause is not identified.
Irregular/no menstrual periods or menopausal symptoms may be the only sign of POI and blood tests are needed for diagnosis.
POI can cause infertility and increase the risk of long-term health problems such as heart disease and osteoporosis.
Hormone replacement therapy is recommended until the usual age of menopause (around 51 years) to reduce the long-term risks.
Speak with your doctor about treatments and other options to manage any infertility and health consequences.
Learn More & Download the Fact Sheet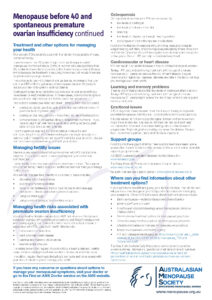 Latest News
Engaging your Doctor We understand that this maybe a sensitive subject. Many women feel discomfort or embarrassment which contributes to their unwillingness to seek… Continue Reading →
Have you heard of Prof Susan Davis? Professor Susan Davis is a clinician researcher undertaking research spanning clinical medicine and public health pertaining to… Continue Reading →
Menopause can affect your relationships and your sex life. Symptoms such as a dry vagina can make sex painful and you may find you… Continue Reading →