Webinar: What's new – The use of testosterone in women
Posted: May 23, 2022
What's new – The use of testosterone in women
The AMS Board is pleased to bring you this webinar recording on the use of testosterone therapy in women. This webinar is targeted at GPs, endocrinologists, gynaecologists, pharmacists and other healthcare professionals. This presentation will include a review of basic female androgen physiology, when it is appropriate to prescribe testosterone for women as well as how to prescribe testosterone for women. Case studies were presented, as well as questions answered.
Watch Webinar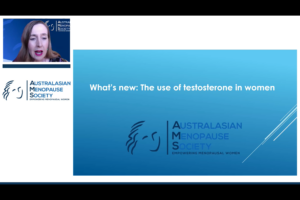 Latest News
Low Sexual Desire is Common Sexual difficulties and concerns are common across a woman's lifespan, increasing at midlife and beyond menopause. The DSDS (Decreased… Continue Reading →
Low Sexual Desire Is Common 1 in 3 women between the ages 40 – 64 will experience HSDD* which can severely impair relationships, mental… Continue Reading →
Professor Susan Davis discusses how the onset of menopause may affect your sex life, as well as various treatment options.