Webinar: Perimenopause | 5 April 2022
Posted: May 6, 2022
Webinar: Perimenopause | 5 April 2022
The perimenopause is an important transitional stage of life. It can be associated with a variety of symptoms and potential health consequences. This webinar is targeted at GPs, endocrinologists, gynaecologists and other healthcare providers who wish to upskill their management of women in midlife.
In this webinar, Gynaecologist Professor Rod Baber and GP Dr Karen Magraith explore the clinical issues and management challenges that arise during perimenopause.
Karen discusses the dilemmas for GPs managing women in the perimenopause, including mental health issues and also how to approach the menopause consult.
Rod discusses the investigation and management of bleeding in the perimenopause, as well as the risks and benefits of menopausal hormone therapy.
Watch Webinar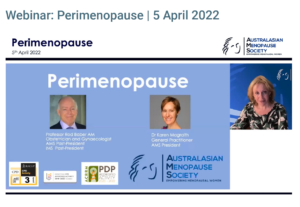 Latest News
Low Sexual Desire is Common Sexual difficulties and concerns are common across a woman's lifespan, increasing at midlife and beyond menopause. The DSDS (Decreased… Continue Reading →
Low Sexual Desire Is Common 1 in 3 women between the ages 40 – 64 will experience HSDD* which can severely impair relationships, mental… Continue Reading →
Professor Susan Davis discusses how the onset of menopause may affect your sex life, as well as various treatment options.