Webinar: Fragile X and Premature Ovarian Insufficiency – 4 April 2022
Posted: May 20, 2022
Fragile X and Premature Ovarian Insufficiency
The AMS partnered with the Fragile X Association of Australia for Fragile X and POI – What do I need to know?
This webinar, presented by AMS Past-President A/Professor Amanda Vincent is for women who are going through or at risk of POI due to FMR-1 pre-mutation.
The webinar covers:
What is POI?
What causes POI?
FXPOI
Risk factors
Impact of POI
Diagnosis
Management
Watch Webinar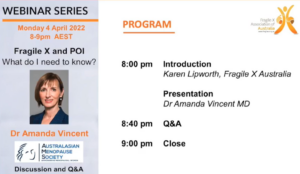 Latest News
Low Sexual Desire is Common Sexual difficulties and concerns are common across a woman's lifespan, increasing at midlife and beyond menopause. The DSDS (Decreased… Continue Reading →
Low Sexual Desire Is Common 1 in 3 women between the ages 40 – 64 will experience HSDD* which can severely impair relationships, mental… Continue Reading →
Professor Susan Davis discusses how the onset of menopause may affect your sex life, as well as various treatment options.