Physician aid: Decreased Sexual Desire Screener (DSDS)
Posted: June 19, 2022
Note to Health Care Provider: The Decreased Sexual Desire Screener1(DSDS) is a brief,




validated tool designed to assist in the identification of premenopausal patients who may




suffer from acquired, generalized Hypoactive Sexual Desire Disorder (HSDD). The DSDS is not




a screener validated for self-diagnosis by the patient. Instead, the DSDS may be used by an




HCP as part of a comprehensive clinical examination during which the patient's current




medical status and history and all other relevant factors are evaluated.
Digital DSDS:
Digital DSDS
Order Hardcopy DSDS Pads:
Order Hardcopy Pads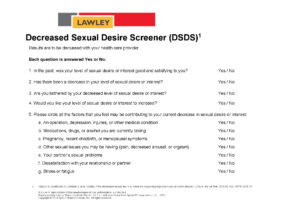 Latest News
Low Sexual Desire is Common Sexual difficulties and concerns are common across a woman's lifespan, increasing at midlife and beyond menopause. The DSDS (Decreased… Continue Reading →
Low Sexual Desire Is Common 1 in 3 women between the ages 40 – 64 will experience HSDD* which can severely impair relationships, mental… Continue Reading →
Professor Susan Davis discusses how the onset of menopause may affect your sex life, as well as various treatment options.