Scrotal testosterone – Australia's world-first study
Posted: July 18, 2017
Scrotal testosterone – the next generation 
 
In March this year the peer-reviewed journal Andrology published Pharmacokinetics of testosterone cream applied to scrotal skin. 
This world-first study demonstrated that the hormone testosterone applied scrotally achieves up to eight times the absorption than when applied to the upper body. The ramifications for patient safety and cost per dose implications are profound.
The study, undertaken at the ANZAC Medical Research Institute in Sydney by Professor David Handelsman,was a single-center, three-phase cross-over pharmacokinetic study of three single doses (12.5mg (0.25mL), 25mg (0.5mL) and 50mg (1mL)) of 5% testosterone cream (administered in random sequence on different days with at least 2 days between doses to healthy eugonadal volunteers with endogenous testosterone suppressed by administration of nandrolone decanoate. Serum testosterone, dihydrotestosterone (DHT) and estradiol concentrations were measured by liquid chromatography, mass spectrometry in extracts of serum taken before and for 16 h after administration of each of the three doses of testosterone cream to the scrotal skin. Testosterone administration onto the scrotal skin produced a swift (peak 1.9–2.8 h), dose-dependent (p < 0.0001) increase in serum testosterone with the 25 mg dose maintaining physiological levels for 16 h. Serum DHT displayed a time- (p < 0.0001), but not dose-dependent, increase in concentration reaching a peak concentration of 1.2 ng/mL (4.1 nM) at 4.9 h which was delayed by 2 h after peak serum testosterone.
There were no significant changes in serum estradiol over time after testosterone administration. The authors concluded that testosterone administration to scrotal skin is well tolerated and produces dose-dependent peak serum testosterone concentration with a much lower dose relative to the non-scrotal transdermal route of application to the upper body.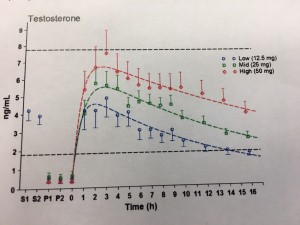 The significance of these findings has a potentially important safety and cost impact on patients and their families. In the USA, all FDA approved testosterone gels and solutions are alcohol based and carry a Black Box safety warning about the dangers of passive testosterone transfer to partners and children. The product information sheets of Australian approved transdermal testosterone products include similar warnings. Transdermal testosterone products applied to the upper body achieve between 9-14% absorption. This means 86-91% of the testosterone applied to the upper body is residual on the skin surface. Children and female partners can absorb testosterone by making close contact with users which can result in virilizing effects. Transdermal testosterone gels and solutions cannot be applied to the scrotum because the high alcohol content of these products is irrirtant. The greater capacity of scrotal skin to absorb the alcohol-free testosterone cream, combined with the location of the testes, effectively removes the problems associated with passive transfer.
Lawley Pharmaceuticals plans to undertake a large Australia-wide study – the SAFEST study (Scrotal AndroForte Efficacy and Safety Trial) – in hypogonadal men commencing in 2018.
For a copy of the full paper please contact michaelb@lawleypharm.com.au
Latest News
Low Sexual Desire is Common Sexual difficulties and concerns are common across a woman's lifespan, increasing at midlife and beyond menopause. The DSDS (Decreased… Continue Reading →
Low Sexual Desire Is Common 1 in 3 women between the ages 40 – 64 will experience HSDD* which can severely impair relationships, mental… Continue Reading →
Professor Susan Davis discusses how the onset of menopause may affect your sex life, as well as various treatment options.