AMS Fact Sheet – Will menopause affect my sex life?
Posted: July 11, 2022
Will menopause affect my sex life?
MAIN POINTS
If your sex life is good before menopause, it is likely to remain good after menopause.
Sexual wellbeing is complex and many other personal factors in your life could be involved.
Vaginal dryness can be treated with creams and lubricant.
Hormonal treatments include oestrogen or testosterone therapy but only use testosterone designed for women.
Your doctor, a pelvic health physiotherapist or a counsellor may need to work with you to look at the many factors that might be affecting your sexual wellbeing.
Learn More & Download the Fact Sheet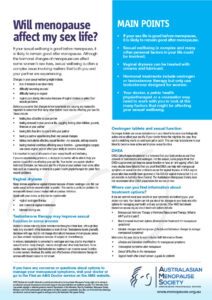 Latest News
Engaging your Doctor We understand that this maybe a sensitive subject. Many women feel discomfort or embarrassment which contributes to their unwillingness to seek… Continue Reading →
Have you heard of Prof Susan Davis? Professor Susan Davis is a clinician researcher undertaking research spanning clinical medicine and public health pertaining to… Continue Reading →
Menopause can affect your relationships and your sex life. Symptoms such as a dry vagina can make sex painful and you may find you… Continue Reading →