HealthEd Seminar: The Annual Women's & Children's Health Update 2022
Posted: June 1, 2022
Leading experts present their independent views and advice in 2022
Brisbane – 4 June | Sydney – 6 August | Perth – 27 August | 
Melbourne – 3 September | Adelaide – 17 September
The Annual Women's & Children's Health Update returns for 2022 in Sydney, Melbourne, Brisbane, Adelaide and Perth. Join leading experts and engaging speakers as they cover a broad range of topics, the latest information and practical take home messages. 
The one-day program is even more cost-efficient when you take advantage of early bird discounts. See pricing below!
Register now to attend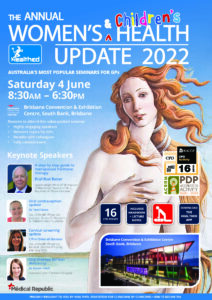 Latest News
Low Sexual Desire is Common Sexual difficulties and concerns are common across a woman's lifespan, increasing at midlife and beyond menopause. The DSDS (Decreased… Continue Reading →
Low Sexual Desire Is Common 1 in 3 women between the ages 40 – 64 will experience HSDD* which can severely impair relationships, mental… Continue Reading →
Professor Susan Davis discusses how the onset of menopause may affect your sex life, as well as various treatment options.